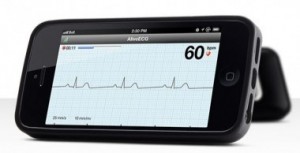 Recently, Scanadu a Silicon Valley–based company has revealed the innovation at Consumer Electronic Show (CES 2014) that the use of smartphone can be further extended for health check tool. The Scanadu invented the hardware that adds abilities to existing handsets to monitor Vital Sign Monitor for the user. This health –checking scanner packed with sensors called scout which help user to check their vital sign parameter ie heart rate, skin and core body temperature, respiratory rate and blood oxygen levels.
Scanadu is founded in January 2011 by Walter De Brouwer and Misha  Chellam in Brussels, Belgium. Later on in mid 2011, the company relocated to the silicon valley to help grow the company and set-up a lab at NASA Ames, California, USA.
The scanadu first product SCOUT was first unveiled on Nov 2012, a portable health check electronic device for consumer use to measure pulse transit time, heart rate, electrical heart activity, body temperature, heart rate variability and blood oxygenation.
Ben wood the tech consultant CCS Insight said "if you come up with a good idea the reality is that you are going to get sold for a high price".
The Smartphone app to interpret the data in order to warn potential problem and help owner  to manage a chronic condition on time. This product is prototype and yet to be developed fully functional for user use. Though, it needs health regulatory approval (FDA) before it go for the Sale.
Presently, we are using our smartphone for personal data, emails, photos, entertainment and hope very soon we  are  going to use it for health check- up tool too ….million thanks to Scanadu who innovate this health technology.